It's been awhile since I did anything constructive here at AST since my mother had health problems during most of last year, but she's doing much better, and my attention can now be put back on kits. Thought I'd share my build of the 1/1000 D-18 that was originally sold by Delta Quadrant. I've got 20 kits sitting on the shelf, so once I complete my build here, I'll make them available to purchase on the website.
The 1/2500 version I painted up fairly simple, but wanted to make the 1/1000 build more detailed. I'll be using Tamiya XF-80 Royal Light Gray as the base with XF-25 Light Sea Grey as a secondary color. Will also use various metallics and black and white, and perhaps a little bit of a rusty red/brown color like XF-9 Hull Red or XF-68 NATO Brown as accent.
Here's what the kit includes, minus the decals which I'll post later after I finish the build. I might need to add, remove, or modify decals, so I don't want to confuse anyone right now.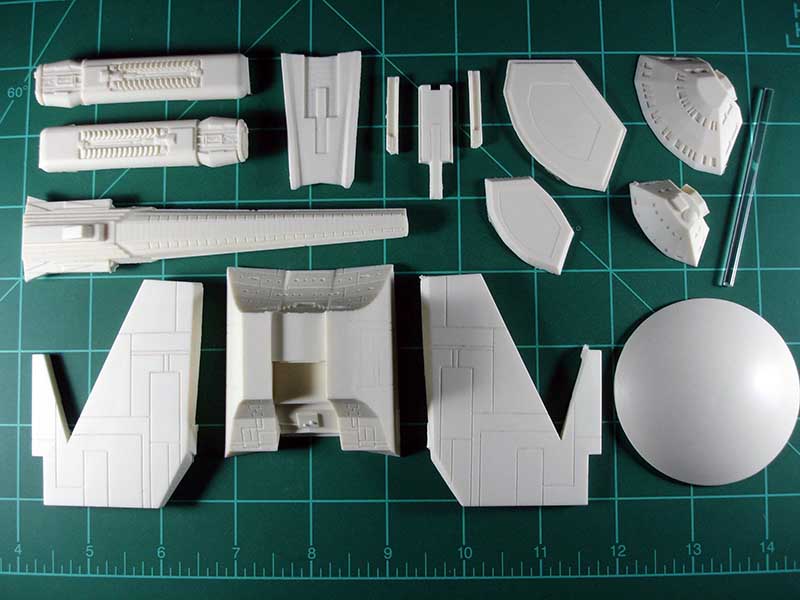 Attached the center dorsal part and a wing to show how things go together.
For the 1/2500 build, I used the small bridge module, but for this one I wanted to use the large bridge. These are hollow and in two pieces so that the weight is reduced on the forward portion of the boom. Should help prevent warpage.
Here's the hull painted with the XF-80 base paint. It's only partially masked off here at the moment. These four rectangles are some of the areas where I'll be using the XF-25 darker colored gray as a secondary color.