Spock: "I'd advise ya's to keep dialing, Oxmyx"
A Piece of the Action
Synopsis:
The
Enterprise
returns to a planet visited about 100 years ago before the Prime Directive was in place, to see the effect it had on these impressionable people. When they arrive, Kirk and Spock appear to have landed in a 1920's era Chicago, with mob bosses fighting for control and the streets are filled with criminals carry weapons -- all apparently due to contamination from a single book left behind from the
Horizon
. Kirk tries to come up with a viable government/leadership for the planet, but gets involved with double-dealing from these unscrupulous gangsters. Finally, he demonstrates the Federation's power and demands an organization where the Federation will collect their "cut" annually.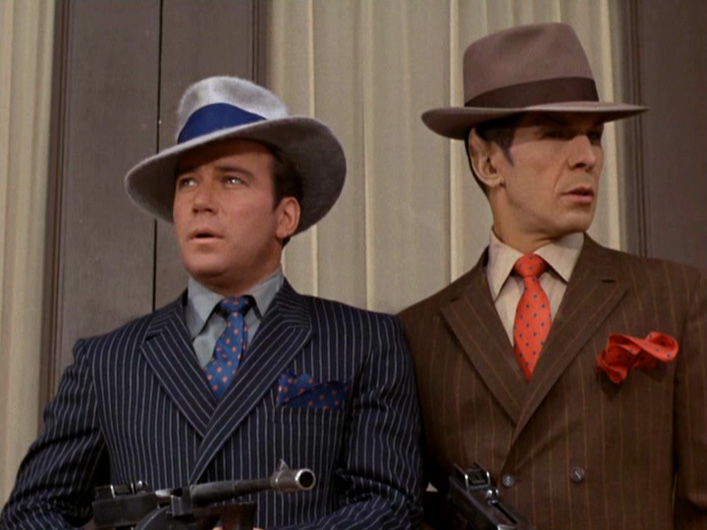 Notes:
This is probably the most entertaining/humorous episode with Kirk's bad driving, fooling the thugs with a contradictory card game "Fizzbin", playing a gangster character and Spock's mostly failing to fall into a bad-guy role. "Mel" from the TV show "Alice" played Jojo Krako.
Plans:
No other ships were shown in this episode....
So don't just leave anything laying around (looking at your "Bones")...