Hey Guys!
I'm kinda new to this forum so I thought I would start out with a "simple" build currently on the bench. I am building a AMT 1/650 TOS Romulan BOP. This will continue my infatuation with ST:TOS but, after having build one AMT/ERTL 18" TOS Enterprise and restored one 1974 TOS Enterprise, I am ready to build something a bit different from the Federation!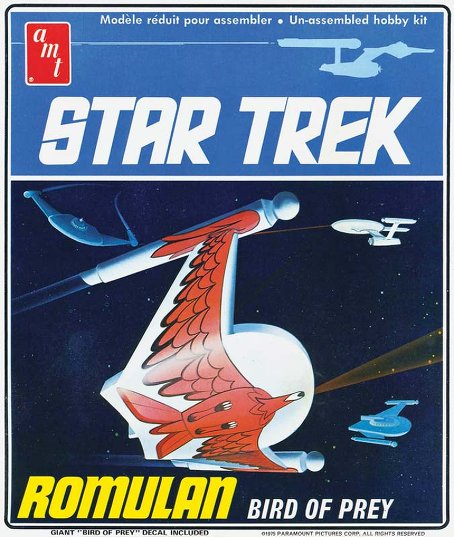 I chose this kit for some specific reasons: 1) the kit is a relatively easy build 2) it is a TOS era kit 3) this will be my first attempt at lighting a kit! I hope to not have to focus so much on the build as I can focus on the lighting. The aspect that is a bit intimidating is the lighting portion. I am a "business major" by education and very few dental patients (read here NONE!) ask for a lighted prosthesis so I am a virtual newb to this part of the community and to electronics itself. So I may be asking a lot of questions on lighting in the Modeler's Question board. Inspired by Steve's (trekkriffic) build, I plan to add gridlines and impulse exhaust ports and a little more detail than what may be considered canon.
My son picked up a TOS Romulan BOP Diamond Select display model (Yes, I have infected by children with a love of all things Star Trek!) with lights and sound, so I will be using it as a 3-D guide.
In comparing the two, I immediately see glaring differences. Looking at it from the Dorsal view, the stern of the Hull is missing some contour. I would like to add the missing contour.
20160503_192243
Jay Denis
, a builder on Culttvman.com, provides a partial list of the AMT models inaccuracies:
1. Engine nacelle forward detail – AMT designed it with a full sphere instead of a half sphere
2. Engine nacelle rear detail – should be smaller outside circumference than the rest of the engine
3. Main hull sides – The kit's hull sides are vertical and the studio model's hull sides angle outward from bottom to top at approximately 25-30 degrees.
4. Top superstructure height – too tall
5. The Ventral and Dorsal stern primary hull is convex instead of concave
6. The Dorsal Fin is 2X's as thick as the Studio Model's
7. Plasma weapon emitter – This part was included in Round2's reissue of the model
Admittedly this is not an exhaustive list – it is a start at some modifications to make it closer to what we all have seen on the screen.
I will be using Mark McMaster's blueprints as guidance during the build. They are freely available at
cygnus-x1.net
.
Here are some pics on my plan for gridlines. I am thinking I will add some to the wings as well, just so they look like they belong with the rest of the ship!
20160503_205712A
20160503_205725
Any comments, inputs or suggestions for improvement are greatly desired and hugely appreciated! I hope you will follow along with me as I build!
For the Praetor's Glory!
Steve